BHS STUDENTS WIN ROTARY SCHOLARSHIPS
BRANFORD, CT, Sept. 5, 2018 – Five members of the Branford High School Class of 2018 head off to college this month with the help of the Rotary Club of Branford, which awarded $7,500 in scholarships to the impressive group of graduates.
Margaux Lux, who plans to study political science at the University of Amsterdam in the Netherlands, won the $3,000 "Service Above Self" scholarship from the Branford Rotary Foundation Scholarship Committee, whose members said they were inspired by Lux's passion for learning and her academic record at Branford High and ACES Educational Center for the Arts in New Haven. READ MORE...
---
BRANFORD ROTARIANS WORK IN KENYA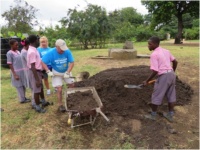 BRANFORD, CT. Aug. 29, 2018 — There were five Rotarians from Branford, and 14 more from neighboring Connecticut towns, and a few hundred school children and teachers and citizens from the towns of Mombasa and Takaungu in Kenya.
Together, in a week's time, they spruced up two schools, repairing and repainting them, and dug holes to plant dozens of trees that will in time be welcome shade trees and fruit-bearing trees. And besides planting and painting, they all sang and danced in these towns on the eastern edge of Kenya, on the shore of the Indian Ocean. READ MORE...