BHS STUDENTS WIN ROTARY SCHOLARSHIPS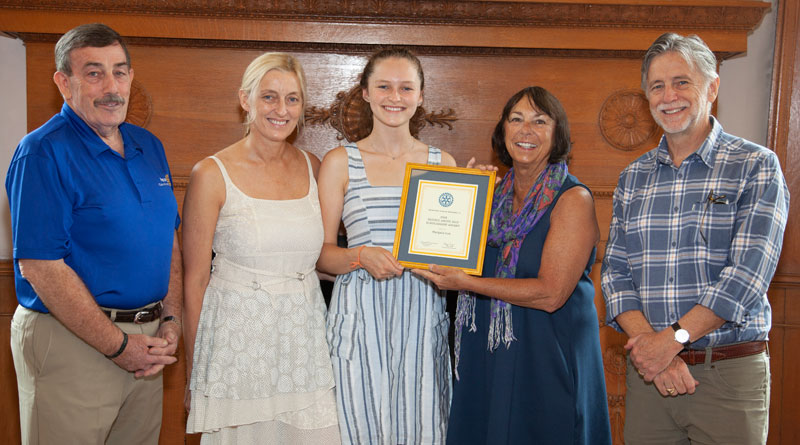 (L-R: Rotary Secretary John Mooney, Ann Dumont, Margaux Lux, Rotary Pres. Mary Donaruma, Scholarship Chair Anthony Terry)
BRANFORD, CT, Sept. 5, 2018 – Five members of the Branford High School Class of 2018 head off to college this month with the help of the Rotary Club of Branford, which awarded $7,500 in scholarships to the impressive group of graduates.
Margaux Lux, who plans to study political science at the University of Amsterdam in the Netherlands, won the $3,000 "Service Above Self" scholarship from the Branford Rotary Foundation Scholarship Committee, whose members said they were inspired by Lux's passion for learning and her academic record at Branford High and ACES Educational Center for the Arts in New Haven.
"Her scholastic abilities speak for themselves, but she also has super qualities: a genuine enthusiasm for her pursuits and a spirit of caring about people that's remarkable," said Scholarship Committee chairman Anthony Terry. "These express an ethic of service that's personal, community-based and globally driven, woven into a feeling of purpose."
Lux, the daughter of Anne Dumont and Rob Lux, was a member of the National Honor Society, Science Honor Society, and World Language Honor Society. She hopes to get a Ph.D. in healthcare policy.
Olivia Kallert, daughter of Cynthia and Paul Kallert, received a $1,000 "Service Above Self" scholarship and will attend the University of Connecticut for an intended career in healthcare. Kallert was president of the Branford High School Interact Club, a National Honor Society member, and had a perfect attendance record.
"The panel was very impressed with Olivia's quiet but intrinsic courage," said Terry. "She showed a real determination to excel and master her pursuits."
James Wallace, who intends to study health and behavioral science at the University of Delaware, also earned a $1,000 "Service Above Self" award. Wallace, the son of Judianne and Jeff Wallace, was a member of the National Honor Society and played varsity baseball for BHS.
"James epitomizes the scholar-athlete, each side of which supports the other, resulting in a true capacity for achievement, leadership and service," said Terry.
In addition to the Rotary Foundation winners, Rotary annually donates $2,500 to the BHS Principal's Scholarship Committee, which chooses three graduating seniors to receive awards. Loobna Zahan, who is enrolled at Clark University in Worcester, Mass., and Henry Watson, a freshman at the University of New Hampshire, each earned $1,000 Citizen-Scholar awards, while UConn freshman Kallert won a $500 Branford Rotary Interact Club Scholarship.
Any high school student living in Branford, whether attending Branford High School or another area secondary school, is eligible to apply for a Rotary scholarship. For consideration, students must have outstanding academic and community service records, express a financial need, and demonstrate the values inherent in Rotary's motto: "Service Above Self."
For more details, visit our Scholarships page.
Celebrating its 90th anniversary in 2018, the Branford Rotary Club is a volunteer organization of business and professional leaders who strive to make a positive difference in Branford, across the shoreline and around the world.