BE A ROTARY PARTNER
When you support Rotary, you change lives.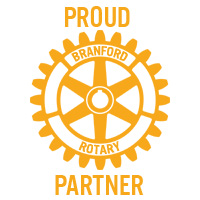 And no supporter can do more good for more people than our generous annual Rotary Partners - businesses and individuals who share our dedication to helping others.
Every year, the Branford Rotary Club and its 80 members help feed the hungry, promote literacy, fight disease, and assist seniors, students, and those with disabilities. In these efforts, our Rotary Partners - who provide an annual donation of at least $1,000 - benefit from the admiration of their community, as well as numerous promotional opportunities.
As an annual Rotary Partner:
Your company becomes a sponsor of ALL OUR EVENTS for a year, including the Branford Festival, the Thanksgiving Rotary/YMCA 5k and Fun Run, the Branford Rotary Golf Classic, the Rotary Classic Car Show, and other special Rotary events.

Your company name and logo appear on EVERY page of BranfordRotary.org, with a link to your website.

Your company is included in emails about our events sent to Rotary members and the public.

Your logo is displayed in event advertisements and posters.

You receive a quarterly newsletter explaining how your generous donation has been used for the community.

You get a Rotary Partner door decal and/or a Rotary Partner plaque to display at your business, showing your customers you are actively involved in helping others. Think of it as a community seal of approval.

Your logo is included in Branford Rotary promo videos for our events and our club.

HELP US SERVE THE COMMUNITY
By partnering with Rotary, you're supporting a vast array of charitable organizations. In the past year alone, the Branford Rotary Club and Branford Rotary Foundation have donated more than $40,000 to groups that serve the community. Here are just a few:
No less importantly, Branford Rotarians are active and engaged volunteers, annually participating in multiple hands-on service projects. Here is a sampling:
Feed Our Neighbors

Salvation Army bell ringing

Branford Land Trust Clean Up

Raise the Roof/Habitat for Humanity

Take a Vet Fishing
In addition, every December, the Branford Rotary Club sponsors, cooks and serves a holiday dinner for 175 Branford seniors, and each fall we host a lunch for 100 local veterans to honor our men and women in uniform. We also annually provide $7,500 in scholarships for high school students from Branford who wish to pursue higher education.
ROTARY AROUND THE WORLD
As one of the 35,000 clubs around the world in Rotary International, the Branford Rotary also financially supports the global humanitarian efforts of our Rotary Foundation. Recognized as one of the world's leading charitable organizations, the Rotary Foundation has earned an A+ rating from Charity Watch, and a perfect 100 score from donation watchdog Charity Navigator.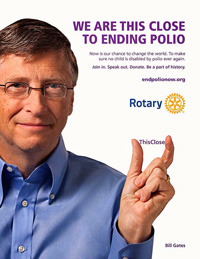 In other words, Rotary Partners can have confidence that their generous donations are utilized effectively and efficiently.
The Rotary Foundation focuses on six causes: promoting peace, providing clean water, saving mothers and children, supporting education, growing local economies, and fighting disease. The Foundation's work has made an enormous difference. In fact, one small donation can save a life; a child can be protected from polio with as little as 60 cents. Rotary Partner contributions can help us go even further. For every $1 Rotary commits to polio eradication, the Bill & Melinda Gates Foundation has committed $2. Thanks to the Foundation and its collaborators, more than 99 percent of polio cases have been eradicated worldwide.
Rotarians are your friends, your neighbors, your colleagues. Working together, we can make Branford, the shoreline, and the world, a better place. Please consider becoming an annual Rotary Partner today. Email foundation@BranfordRotary.org to learn more.