BRAFFLE 2021 SELLS OUT

For the second year running, Braffle - Branford Rotary's Outrageous Restaurant Raffle – sold out for 2021, and the winners have been announced.
With 3,000 tickets at $20 apiece, the 2nd Annual Braffle raised $60,000, most of which will go to Branford Counseling & Community Services' Basic Needs program, which helps families in need with food, rent and utilities. In other words, win or lose, every entry bought was a win for Branford.
But there was a lot to win. The Absurd Grand Prize winner got $100 gift cards to each of 50 – yes, 50 – Branford restaurants. The Ridiculous Second Prize winner received $50 cards to all 50. And there were eight more prizes.
"Some people are amazed that Branford even has 50 restaurants, but we do," said Branford Rotary President Ginny Page. "Just think, if you win first or second prize, you could eat at a different Branford restaurant every week for almost a year. If that seems outrageous, it's because, hey, it is."
In addition to the Grand and Second prizes, Braffle also has 3rd-10th prizes: $100 gift cards to use at the restaurant of your choice. And the gift cards do not expire.
---
2020 BRAFFLE RESULTS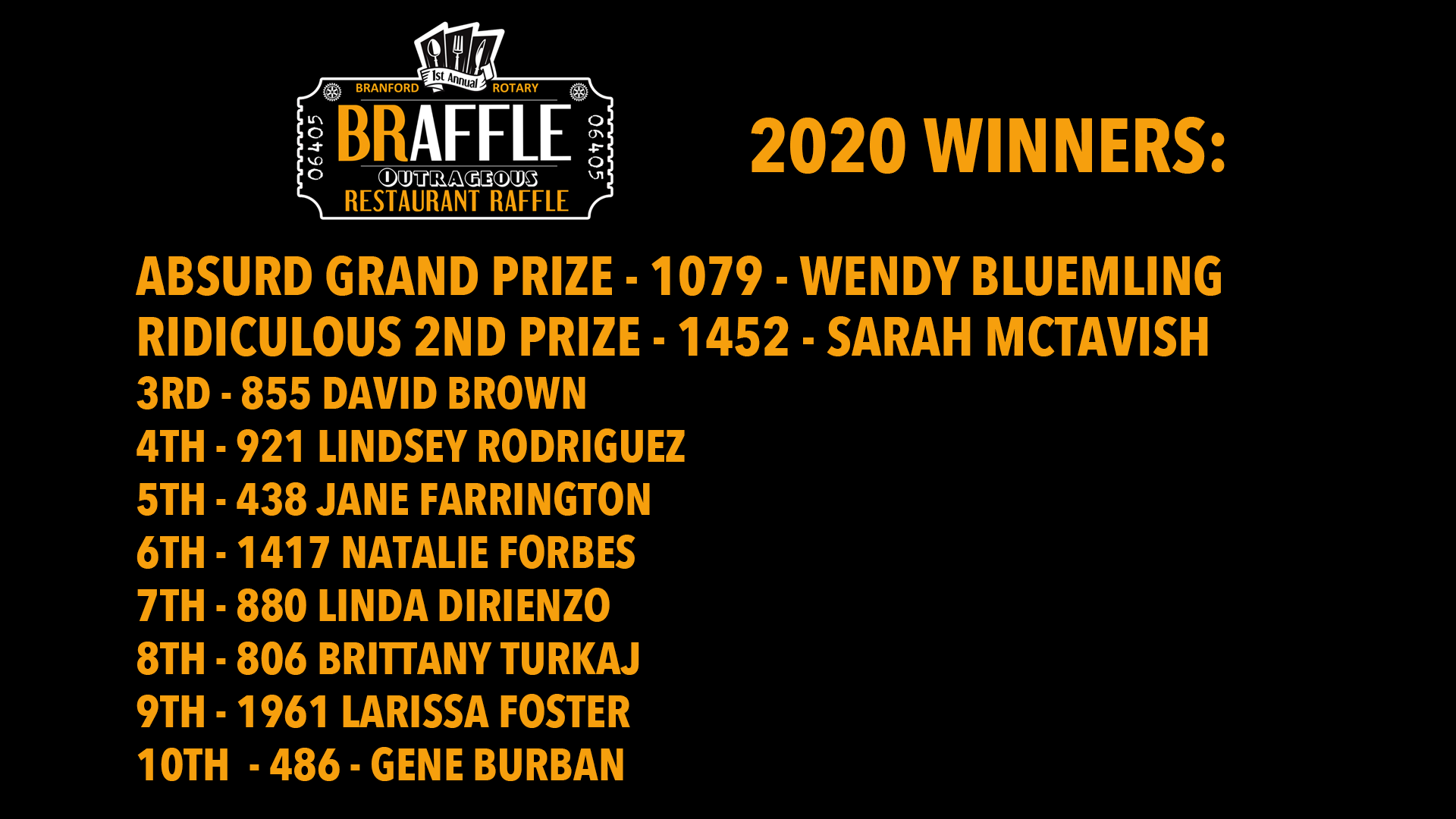 Branford Rotary would like to thank all 920 ticket holders who snapped up the 2,000 tickets, as well as our terrific Rotary Partners and of course the 34 restaurants that took part in the 2020 Braffle. We, like most of you, look forward to Braffle 2021, partly for the Braffle, but mostly for the "2021" part.
The 2020 Braffle was part of Branford Rotary's innovative HELP OUT – TAKE OUT program, which raised more than $73,000 to help Branford restaurants and struggling local families. A partnership with Branford Counseling & Community Services, the program purchases gift cards from local restaurants and distributes them to residents in need, including those who've lost work during the pandemic.
ABSURD GRAND PRIZE:
$100 Gift Cards to 34 Branford Restaurants. Yes, 34 different restaurants! A $3,400 value!
RIDICULOUS SECOND PRIZE:
$50 Gift Cards to 34 Branford Restaurants. A $1,700 value!
SOMEWHAT REASONABLE

3rd-10th PRIZES:
A $100 gift card you can use at the restaurant of your choice.
See you for Braffle 2021!
Braffle, and HELP OUT - TAKE OUT, are supported by our generous Branford Rotary partners: