BRANFORD ROTARY WINS SERVICE AWARD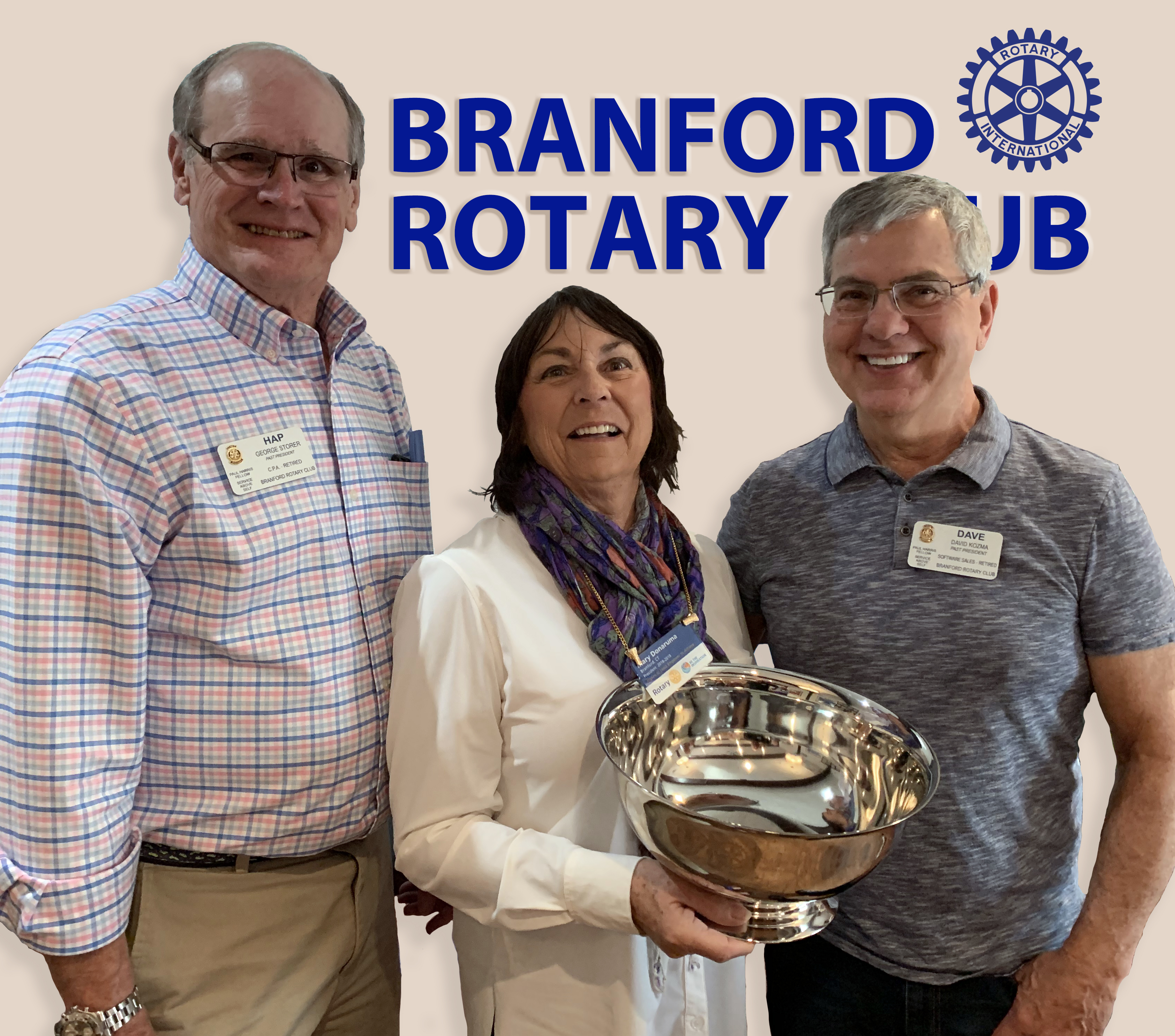 Branford Rotary Club President Mary Donaruma, flanked by past club presidents Hap Storer (L) and Dave Kozma, with the Pettengill Award, given for outstanding service during the past three years.
BRANFORD, CT, (May 22, 2019) - The Branford Rotary Club received the 2019 Charles W. Pettengill Award as the "most outstanding" large club from among the nearly 60 Rotary clubs in District 7980, which covers the southern half of Connecticut.
The most prestigious service honor given by the district, the Pettengill annually goes to the club that has excelled in service to its community, and in support of the international Rotary Foundation.
"I am extremely proud to accept this award on behalf of our wonderful members, who have done so much for our community and the world," said Branford Rotary President Mary Donaruma. "Because Pettengill winners are recognized for their past three years of service, I'd like to especially thank my two presidential predecessors, Dave Kozma and Hap Storer, whose dedication and hard work inspired the Club to great achievements."
With more than 80 members, Branford Rotary was recognized for its charitable giving and participation in numerous volunteer events. Among them: the Club has packaged thousands of meals for "Feed Our Neighbors" Haitian relief, hosts an yearly holiday dinner for 175 senior citizens, and every fall has a luncheon for nearly 100 veterans, annually provides free dictionaries to all 3rd graders in town, cooks for Take a Vet fishing and Pat Andriole Family Day, co-hosts the Thanksgiving Day 5k and Fun Run, and has the anchor tent at the Branford Festival. Rotary also awards nearly $10,000 in college scholarships to high school students from Branford, and last year organized the "Party at the Pond" fundraiser for the Smilow Cancer Hospital at Yale New Haven. Over the past three years, Branford Rotary has given more than $100,000 to dozens of charities and organizations, like the Community Dining Room, Orchard House, Special Olympics, Brian's Hope, the Blackstone Library, Branford Hospice, and Read to Grow.
Internationally, the Club has sent several members to Kenya to help build schools, and is funding clean water projects in Uganda. As part of Rotary International, Branford Rotary is a partner in the fight against polio, which has been a Rotary hallmark for decades.
"Branford Rotary is an extraordinary club that consistently gives back, engages on a global level to the Rotary Foundation and delivers service on a local and international level," said Rotary Assistant District Gov. Robert Friend. "The Pettengill is probably the most coveted award in the district for any large club, and my hat is off to Branford, as well as the other two fantastic Rotary clubs that were nominated, Devon and Ridgefield."