Rotary Classic Car Show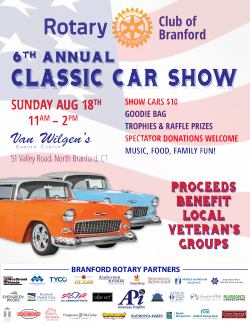 Everybody remembers their first car. Maybe it was a hand-me-down from a relative, a birthday gift from your parents. Maybe it wasn't the most stylish car, but you loved it.
Well, there's an excellent chance one of those models will be on display, in the most pristine condition, at the Branford Rotary Club's 6th annual Classic Car Show on Sunday, Aug. 18 from 11-2 p.m. at Van Wilgen's Garden Center. Admission is Free! (51 Valley Rd, North Branford, CT 06471)
This always popular event assists the club's many charitable causes and events, such as Take-A-Vet Fishing and Branford Rotary's Veterans Day Luncheon.

But let's get back to those classic cars.

The Pontiac Firebird. The Ford Mustang. The Corvette. The Lincoln Continental Mark VI, with the long hood and cool medallion on its nose. Iconic.

Perhaps one will be among the 150 Classic Cars parked there. But there will be more there than automotive museum pieces. There will be raffle prizes and trophies will be awarded. Admission is free. Bring the family. There will be music, food and beverages, too.
The cost to show your car is $10. Download the .pdf form HERE.
If you're interested in sponsoring the event, please email carshow@branfordrotary.org

And if you are looking for something to do with your spare time, a way to give back to the Branford community, why not consider joining The Rotary? We can also use help flipping pancakes under our tent on Father's Day at the Branford Festival.
Click HERE to learn more about becoming a member.
THANK YOU TO OUR SPONSORS: